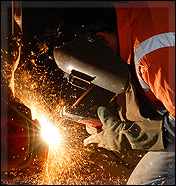 Welcome to our website. Since 1960, our company has provided outstanding customer service. Clay's Welding Co., Inc. is a 2nd generation family owned and operated business.
We provide residential homebuilder services as well as welding repairs and fabrication. Our newly expanded shop machinery includes a CNC plasma cutting machine as well as MIG and TIG welders, giving us the ability to produce a number of custom projects - even objects from DXF files. We use both Supply Pro and Buildtopia and provide outstanding customer service.


Our sister company provides custom metal signs, yard art, etc. Please checkout our website for more information.

"Clay's Welding started out in the basement of a rented appartment. Our father and mother started the company from nothing and eventually moved to a rented shop in Oakton. When Route 123 came through Oakton, the highway department took the property and they were forced to move. They decided to move to Herndon, Virginia, so they purchased a parcel of land and built a shop in 1971. The company remained in Herndon until the early 2000's when once again - someone wanted the property. The company has relocated twice and is now in a great location in Catlett, Virginia. We have a large shop and plenty of parking!"
Tina and Tommy Pilkins